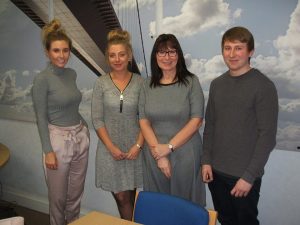 A 21-year-old runner is set to take on a gruelling 650-mile challenge to raise funds for a Sierra Leone-based orphanage thanks to a shopping centre sponsorship opportunity.
Prospect Shopping Centre, along with several of its local suppliers, has sponsored David Newlove's place on the Hope Alive Tour, a nine-day adventure taking place across six cities and two continents organised by Operation Orphan.
Mr Newlove, supervisor at the centre's Poundland store, is the final runner to be confirmed on the 12-strong relay team, which sets off from the centre's Brook Street entrance on Saturday 1st April, at 10.30am.
He said: "I couldn't believe it when I was told I had been chosen. I've never been on an aeroplane before and the furthest away from England I've been is Amsterdam, so to say I am excited is an understatement.
"I like to keep fit. I really enjoy running and I'm quite strict with my diet, but I never thought I'd ever be running this far. It's going to be a massive personal achievement for me and a fantastic experience.
"I can't wait to meet all the other runners and I am counting down the days until I will be on the starting line."
Hull was chosen as the starting point as the birthplace of William Wilberforce, leader of the abolition of the slave trade movement and known for his humanitarian work in Sierra Leone.
The runners will continue across the cities of Cambridge, Nottingham, Liverpool and London – pioneers of the slavery abolition movement, before flying out to Sierra Leone, continuing in Freetown and finishing at Operation Orphan's Heaven Homes sanctuary.
Maria Kamper, Centre Manager for Prospect Centre, said: "We are extremely proud to have been chosen as the starting point for the Hope Alive Tour and delighted to have been able to sponsor a local runners place on this once in a lifetime opportunity.
"Thanks must also go to our suppliers – Kingston Cleaning Service, AM Support Services and Total Support Services, for making it possible to fund David's journey."
Much loved local fundraiser, 94-year-old Jean Bishop, otherwise known as "The Bee Lady" will be waving the flag to set the runners off on their mammoth journey at the launch, which will also be attended by The High Commissioner of Sierra Leone and other national dignitaries.
Michael Scott, founder of Hope Alive, said: "After almost a year of planning, it is a fantastic feeling that the tour is finally here.
"We have an exceptional team of runners and the number of individuals, businesses and organisations that have got behind this initiative to support in one way or another is just incredible – I cannot thank them all enough.
"All funds raised from The Hope Alive Tour will help provide vital services to orphaned and deprived children and improve their quality of life. Every £500 raised for Operation Orphan covers the monthly living costs of 25 children, so we are grateful for any donations received."